Blizzard, Club Penguin Army Media HQ – This week sees the powerhouse RPF reaching new heights with their top ten scores. With the Top 3 remaining stagnant, will a new masked face prove to be a contender for the Top 3 as well?
1. Rebel Penguin Federation [ 111.14 ] [ – ]
2. Army of Club Penguin [ 68.6 ] [ – ]
3. Help Force [ 62.67 ] [ – ]
4. Os Mascarados [ 26.67 ] [ +3 ]
5. People's Imperial Confederation [ 19.34 ] [ NEW! ]
6. Pizza Federation [ 17.5 ] [ -1 ]
7. Romans [ 11 ] [ -3 ]
For viewing the Calculations -> Click Here
–
Rebel Penguin Federation –

The Rebel Penguin Federation had a historic week and even broke a record that has been longstanding since 2009. RPF started on Sunday with an AUSIA Stamp event maxing 52, and an EU/US Branch Battle maxing 81. Tuesday brought Operation: Lucifer with a max of 59, and Operation: It's Alive! maxing 89. The next day, an unscheduled Emo to the Extremo event was held maxing 45,and Operation Rebelegance was held maxing 86. Thursday saw RPF holding Rebel Cart Surfers, maxing 74. Operation Mine Diamonds on Friday maxed 72. and later their Ascension Operation maxed 87. AUSIA held a branch battle on Saturday, maxing 53, and later that day they broke CPA records and made history maxing 178 in Operation: Boxed Up.
–
Army of Club Penguin –
The Army of Club Penguin kicked off the week with an AUSIA event maxing 21. Later that day , they followed it up with an US Heroes vs. Villains event, maxing 30. ACP flew into Monday with a propeller hat event, maxing 31. Tuesday the ACP awaken its inter-monster at their monster takeover event, maxing 31. They later followed it up with an US event maxing 32. At their 'Special Operations' event, they maxed 33. Wednesday they maxed 36 at the AUSIA event and 35+ at their Mammoth, CPR invasion. Friday came with a boom for the clover defenders, maxing 70+ and a gaining a 3-0-0 victory against PIC and OMA. Finally, they finished the week with an AUSIA event and a UK/US event, maxing 47 and 50 respectively.
–
Help Force –
This week has been a turn of events for The Help Force. The week consisted of 8 events, starting off with a Branch Battle on Sunday, maxing 28+. On Monday there was an EU Operation, maxing 37+. On Wednesday, troops logged on three times for an EU Operation maxing 32+, a US Operation, maxing 28+, and a US Invasion of Crystal, maxing 38. On Friday, an EU War Preparation was held, maxing 36+, and they finally finished with their grand Battle Against RFCP on Saturday, where they maxed 62+, transitioning the army into a Golden Age.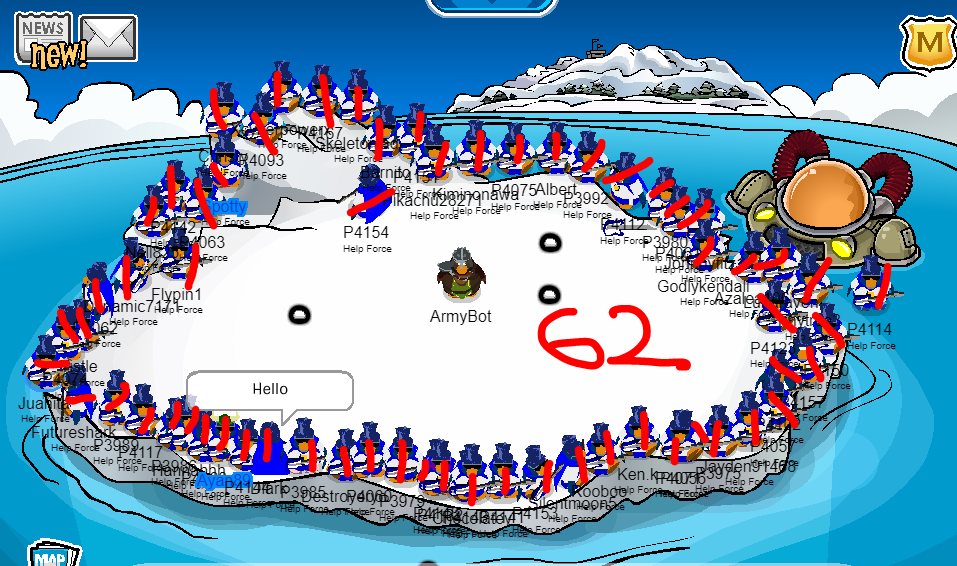 Os Mascarados –
On Monday, to start their week, OMA invaded CPR's Snow Avalanche and maxed 10. The next day, they held a musical event with a max of 12. They held an event on Wednesday which maxed 10. Next, they held a training event on Thursday with a max of 12. On Friday, participated in a three-way practice battle alongside ACP and PIC, where they maxed 13. Os Mascarados ended their week with an event maxing 13.
People's Imperial Confederation –
The Peoples' Imperial Confederation held 3 events in total this week. They started their week with their first event since returning to the community, maxing 10. Their other events consisted of a snail parade event maxing 9 and a practice battle against ACP and OMA maxing 12.
–
Pizza Federation –
On Sunday, everyone's favorite Pizza Bois maxed 12 in a recruiting. The next day, our dough-tossing companions maxed 12 in training. Concluding their week, PZF trained on CPATG maxing 8.
–
Romans –
Coming in with 2 events this week, Romans hit 5 in a sled racing tournament, and invaded the CPATG server Great White with a size of 7.
Let us know what you think in the Comments Section below !
Koloway
CPAM Executive Producer
Filed under: CPAM, Top Ten Armies |